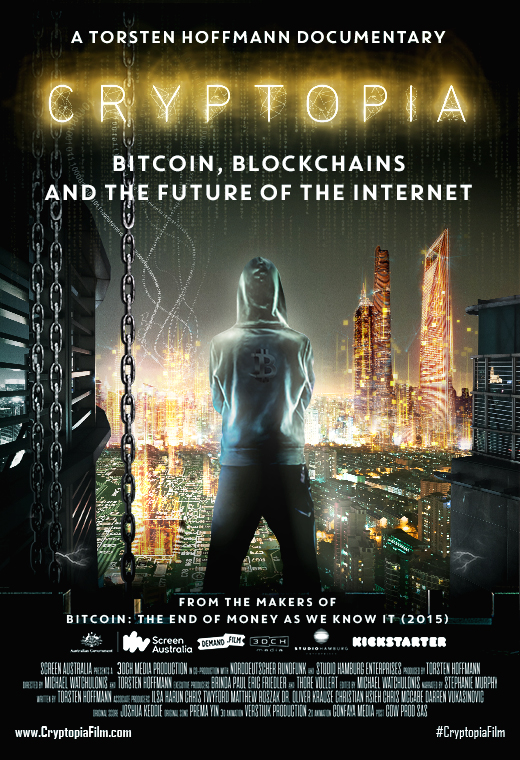 Welcome to CryptopiaFilm's official website. Thank you for coming here. You are supporting independent content creators and securing the livelihood of almost a hundred freelancers (see full credit list below).
You can support us by telling your friends and colleagues about our film on social media and by tagging us #CryptopiaFilm. You can also really help us by rating and reviewing the film on IMDb and wherever you watched it. And, of course you can donate cryptocurrency to the team. These are our official wallets. Beware of imposters and always double check before you make any transfer.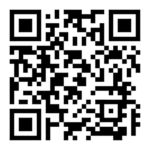 BTC Donation Address
1Ex2J7tAE8u9xumi9HgJgpbCQyQsrjZh4v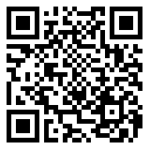 ETH Donation Address
0x8b6cbad265a4b3777b
59bc6ea91f0eff0c273576
We want to thank and acknowledge the following key partners for their help along our 3-year journey from making the documentary to screening it all around the world:
3DCH Media, Screen Australia, Ignition Immersive, Cow Prod, INVR, bloq, Studio Hamburg, Bitcoin.com, Untitled Inc, Konfidio, AlphaWallet, Coinjar, BraveNewCoin, Decred, Bitwala, Blockwall, xapo, Al Jazeera English, Al Jazeera Arabic, Sideways Media, Filmhub, Amazon Prime, ARD/SWR, AppleTV, EBS Korea, Rakuten Overdrive, TVP, Foxtel, TVP, Hoopla, Yes!, RTHK, HRT, Vimeo, Plot11, DocEdge, Udemy, MoContent, Kickstarter, Verstiuk, Draper University, LetzBlock, Confaya Media, Blockstack, Pioneer.to, Talent Republic, Kintaro, Spark Festival, Blockchain Australia, Coinsnack, CoinTelegraph, Cryptoversity, FilmFreeWay, amber app, Token2049, Apollo Capital, allrites, ritestream, Bitcoin Takeover, Moconomy, Dominant Ventures, RMIT Online, The Cluster, The HK Fixer, Nugget's News, Keen Innovation, CPA Australia, Tokenomy, Banxa, cryptograffiti, reallifefilm, The Juice Media, Unchained Podcast, Independent Reserve, GG3D, TravelbyBit, Bitflyer, BTC Echo, Stone&Chalk, Cayman International Documentary Festival, Trinidad and Tobago Film Festival, New York Movie Awards, Ramsgate International Fil Festival, LaCadena, LaBitconf, Cryptodidacte, Rekt podcast, Traders Network, ONG Bitcoin Chile, Venice Film Awards, Virgin Spring Fest, Aphrodite Film Awards, Florence Film Awards, Hollywood Gold Awards, New York Cinematography Awards, European Cinematography Awards, Replay, The Brick TV, AQ Primestream, MContent, and many more.
Thank you to more than 100 freelancers, camera crews, field producers, script advisers, composers, animators and everyone who has helped us in the past 2 years. A BIG THANK YOU to all our Kickstarter supporters.
Witten and Produced by

Torsten Hoffmann

Directed by

Torsten Hoffmann

Michael Watchulonis

In Co-Production with

Norddeutscher Rundfunk and Studio Hamburg Enterprises

Executive Producers

Brinda Paul

Eric Friedler and Thore Vollert

Associate Producers

Ilsa Harun

Chris Twyford

Matthew Roszak

Dr. Oliver Krause

Christian Hsieh

Chris McCabe

Darren Vukasinovic

Morris Hille

Narrated by

Stephanie Murphy

Torsten Hoffmann

Edited by

Michael Watchulonis

Ben Hall

Original Score composed by

Joshua Keddie

Orignal Theme Song composed by

Prema Yin and Torsten Hoffmann

Performed and recorded by

Prema Yin

Legal Services

Stephen Boyle & Co, Media and Entertaiment Law

3D Animation

Verstiuk Productions

Project Manager

Sergey Myndra

Designers

Konstantine Batishchev, Maxim Kravchenko, Gennadii Kubrak

2D Animation

Confaya Media

Project Manager

Roland Zsigmond

Animators

Roland Zsigmond, Oliver Petrica

Illustrator

Alina Cîrpaci

Poster design

E-Django Designs

SFX Overlays

Troy Alexiadis

Post Production France

Cow Prod SAS

Post-production supervisor France

Gallien Chanalet-Quercy

Graphic artist : Matthieu Cacheux

3D Artist : Maxime Villemard

Color grading / Finishing : Sergio Ochoa and Maxime Rojouan

DCP : Sergio Ochoa

Audio/Sound Post Production

Windmill Audio

Re-recording mixer: Pip Atherstone-Reid

Sound editor: Simon Rosenberg

Post producer: Melissa Lee

Script Consultants

Jordan Andrews

Brinda Paul

Michael Watchulonis

Henrik Andersson

Anna McCrossin-Owen

Thomas Leber

Laura Shin

Daniel Balke

Adriana Belotti

Faisal Aftab

Tim Morris

Jens Myhrman

Christopher Strauch

Rory Manchee

Chris McCabe

James Simpson

Naomi Brockwell

Alex Saunders

Aleksander Svetski

Stephan Livera

Melbourne Shoot 1
Production Manager

Torsten Hoffmann

Director of Photography

James Shadrach

Sound Engineer

James Shadrach

Production Assistant

Brinda Paul

Special Thanks

Keke Zhang

Ivan Carlisle

Quest Events

The Cluster

Alex Miller

Dale Dickens

Tokyo
Director of Photography

Shen Lin

Sound Engineer

Hirohisa Ota

Fixer

Masato Yamada

Driver

Hiroaki Gemma

Production Manager

Torsten Hoffmann

Special Thanks

Tomoko Matsuda

Tomomi Kitamura

Gabby W

Jason Sheman

Paul Wasensteiner

Los Angeles
Director of Photography

Daniel Watchulonis

Second Unit Director

Michael Watchulonis

Sound Engineer

Thomas Snodgrass

Production Manager

Brinda Paul

Special Thanks

Breather

dots SPACE

Adam Rosasco

Laura Shin

San Francisco
Director of Photography

Brad Kremer

Second Unit Director

Michael Watchulonis

Sound Engineer

Dennis Jensen

Production Manager

Brinda Paul

Special Thanks

Breather

Marisol O.

Adam Rosasco

Jordan Fahle

Caroline Evans

Computer History Museum

Hong Kong
Director of Photography

Safran Lecuivre

Sound Engineer

Safran Lecuivre

Production Manager

David Attali

Production Assistant

Torsten Hoffmann

Fixer

The HK Fixer

Special Thanks

Christopher Strauch

Alex Fiskum

Peter McCormack

Raphael Strauch

Token2049

Lori Moggy

Kerry Hotel

Kafnu

Lanny Huang

Paul Verron

Germany/Switzerland
Director of Photography

Christian Möller

Second Unit Director

Michael Watchulonis

Sound Engineer

Kai Unger

Production Manager

Sönke Kirchhof

Max Fleming

Production Management

reallifefilm international GmbH

Production Assistant

Brinda Paul

Special Thanks

Room77

Untitled Inc

Dr. Oliver Krause

Brian Fabian Crain

Soenke Kirchhof

Anna Harbaum

Full Node Berlin

Radisson Blu

Ribbit Capital

Francesco Adiliberti

Thomas Leber

London Shoot 1
Director of Photography

Julia Schoenstaedt

Second Unit Director

Michael Watchulonis

Sound Engineer & Production Assistant

Ayman Alhussein

Production Manager

Torsten Hoffmann

Special Thanks

Kai Unger

Asher Tan

Level39

Olivier Janssens

London Shoot 2
Director of Photography

Phil Macdonald

Sound Engineer

Phil Macdonald

Second Unit Director

Michael Watchulonis

Cinematographer

Luke Oliver

Production Assistant

Brinda Paul

Production Management

Freelance Films Production Management

Special Thanks

Said Business School

Josie Powell

Dr. Marc Ventresca

Brigi Gruber

Jimmy Nguyen

Dale Dickens

Melbourne Shoot 2
Director of Photography

Darren Vukasinovic

Second Unit Director

Marcus Machen

Sound Engineer

Oliver Schulz

Production Management

Immersive Video

Production Manager

Sibon Maillard

Production Assistant

Brinda Paul

Ilsa Harun

Make Up

Daphne Goulter

Special Thanks

The Cluster

Stephen Boyle

Stone&Chalk

Harrison Cleaver

Wing (Bobo) Po

Paul Byrne

Blockchain Evangelists

Florian Huber

Tamlyn Rudolph

Daniel Keller

Tommy Quite

Adam Rizvi

Roberto Serrano

Rubini Ann Paul

Dr. Robert Joseph Ritter

Diego Antiñolo

Paul Byrne

Claudio Bellinzona

Tony Kynaston

Nicholas Allen

QuickFix Cellular

AS

Jannine Barnes

GT Sewell

David Hume

Brooke Mallers

Eric Paquin

Jamie King

Peter Morris

The Phantom

Michael Gallagher

Thomas Leber

Theo Ignoul

Adriana Belotti

Fulcran Perier

Dinesh Paul

Mike Maasik

Nithiya Senthirajah

Matteo Marinelli

Armin Geltinger

Piru Gilardi

Dominik Mattern

Frank Tore Thornæs

Lars Klawitter

Graham Wallington

Sukhvinder Singh Jhotti

David Henry

David Hobart

Sebastiaan van der Lans

Morris Hille

Patrick Lawlor

Alvar Soosaar

Steven Saxton

Ole Juhl

Hass McCook

John Sostak

Jayesh Chatlani

Constantin Vennekel

Alex Saglimbeni

Joseph Proud

Timothy Morris

Aleksander Svetski

Brett Stapper

Special Thanks

Jean-Francois Vallee

Alexander Behse

Duncan J. Christie

Manfred Fuchs

Lucas Cullen

Daniel Balke

Yindee Limpives

Daniel Marrable

Chris Jones

Madcotto

Antonin Hildebrand

Christian Frisch

Marc Lepage

Devran Uenal

Ric Hayman

Thomas Euler

Shashwat Gupta

Felix Haerer

Andrea Bianconi

Holger Arians

Steven Li

Samson Mow

Bjarne Magnussen

Nick Rae

Cedric Monnier

Henrik Andersson

Shourov Bhattacharya

Peter Braat

Titus Capilnean

Benjamin Burde

Jay Freeman

Kevin Tierney

Yixin Li

Gordon Brice

Carlos Mendes

Ricardo Rodrigues

Shanker Joyrama

Simon Eichenauer

Vasilis Papaioannou

Craig S. Wrong

David Hunt

Jacob Riggs

Beverly Almeida

Tibor Bartos

Rory Manchee

Joe Ciccolo

Artjom Goloebjev

Heather Salsgiver

Andranik Tumasjan

Abhishek Hans

C. Said Schwarz

Benoît Quimper

Anake Goodall

Raul Cova

Jamie Wilkinson

Alex Saglimbeni

Geoff Noble

Jonathan Walesiewicz

Tieg Zaharia

Zachary Cohen

Jeff Nguyen

Akiva Leeder

Drew McInnes

Richard L. Haas III

Ariane MacC

Safwan Diego

Yao Xie

Suanli

Olly Stedall

Ben Schwarz

Swen Lorenz

Julio Neira

Ian LeViness

Annette Eisvogel

David Hardidge

Rhett Sampson

Shawn

Eddie Geller

Japheth Campbell

Benjamin Willemin

Max Oko

Dave Hickethier

Jelle Haandrikman

Mohsen Malayeri

Rodidds

Chee Hau Teoh

David Mackay

Danny Wallis

Flip Bourse

Thank You

Bianca Weishäupl

Håvard Arnesen

Scott W.Whitehurst

Scott Allendevaux

Alexia Maddox

Jahleel Dowdy

Tyson Quick

Justin Tierney

Ray Tenenbaum

Orhan Aydin Abdioglu

Jed Weintrob

Freerk Ohling

Trey Shelton

Zach

Alexander Jakovic

Hiroyasu Ichikawa

Matthew Hanagan

David Klemm

Suanli

Travis Rice

Clayton Wertz

Joel Cumberland

Nikolet Zwart

Eivind Pedersen

Francesco Bonomi

Christopher Heinzl

Darren Kis

Kevin Glass

Yannick Duguay

FOOTAGE

PEXELS

Tim Draper & Draper University

Honest Government Ads by the The Juice Media

XTC Challenge, Sabine Schindlbauer, Kevin Wolf

Power Ledger, Marrah Fry, Clare Lee

Ethereum Foundation, Tju Liang, Joseph Schweitzer, Hudson Jameson

Blockstack, Muneeb Ali, Patrick Stanley, Gina Abrams

BMW Group, Bernhard Ederer, Michael Ortmeier

Jason Hawkes Photography

Cavort Air, Glenn Fowler

What About the Whole World, Ivan Lukac

NPROPLUS, Nero Chan

Crot Productions, Richard Raymann

CMI Productions, Brad Kremer

Eastgate Creative, Ralph Linhardt

CIVIC, Titus Capilnean

Frank Tore Thornæs

cryptograffiti, Peter Reis

THE NEW TIMES RWANDA, Faustin Niyigena

Shutterstock, Alejandro Vargas Gerard

Free Ross Organisation, Lyn Ulbricht

National Taxpayers Union

Golden Gate 3D, Peter Chang

HBO

Last Week Tonight with John Oliver

CSPAN Networks

https://www.youtube.com/aantonop, Andreas M. Antonopoulos

Konfidio, Dr. Mervyn G. Maistry & Andrei Safronau

Bitcoin.com, Roger Ver, Mate Tokay & Ra Natalia

Deconomy, Youree & Ash Han

Sunghoo Yang, Follow Your Fun

Coin Market Cap

BITCOIN: The End of Money as We Know It

Fox News

CNBC

Bloomberg

The Future of Bitcoin 2017

Token2049

Demetri Andritsakis, Photos By Meem

Diamond Entertainment Corporation

Associated Press

Brave Browser

Peanut the Shiba Inu (insta: mini_dodge), Cindy Au

Mike Lee

Lynx Art Collection

Lufthansa Technik, Wolfgang Reinert and Brit Adler

Herrenfahrer, Eugen Botay

99Bitcoins

Dapper Labs, Bryce Bladon

Mancho Manchev